Department of Theory and Methodology of Ukrainian and World Literature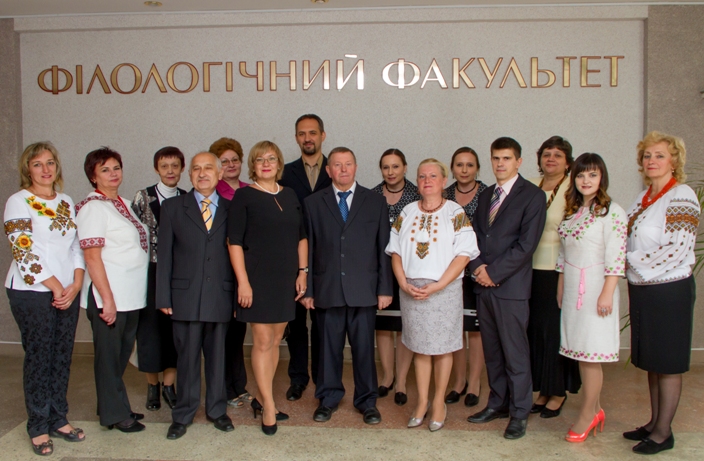 Head of the Department:Mykola Platonovych Tkachuk,Doctor of Philological Sciences, Professor
Dispatcher:Valentyna Volodymyrivna VolianiukSolomiia Hryhorivna Smolyn

Department Staff
Doctors of Philological Sciences, Professors: 
Mykola Platonovych Trachuk
Olha Pavlivna Kutsa
Oksana Vasylivna Labaschuk
Zoriana Bohdanivna Lanovyk
Mariana Bohdanivna Lanovyk
PhD in Philological Sciences, senior lecturers: 
Boroditsa S.V. (acting Head of the Department since 2019)
Vashkiv L.V.
Danylevych M.M.
Kuzma N.Z.
Skuratko T.M.
Trachuk O.M.
Tsaryk L.I.
Chulovskyi B.S.
Senior laboratory assistant:
Smolyn S. H.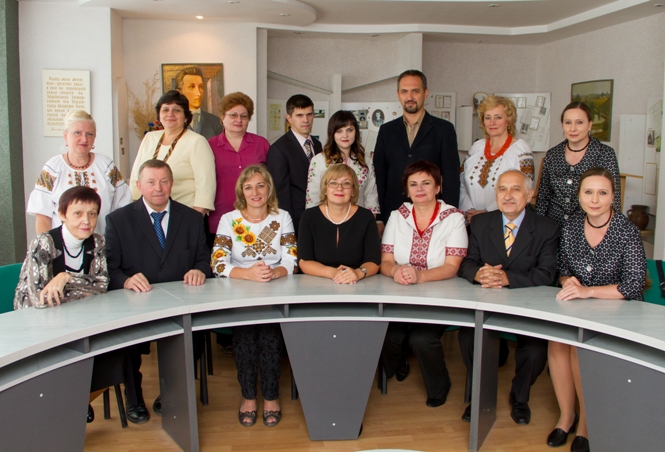 The Department has a long and glorious history. It was established in 1940 as a Department of Literature, which was one of the main structure subdivisions of Kremenets Teachers Training Institute. In 1982 the Department of History of Ukrainian Literature was restored in Ternopil State Pedagogical Institute. Doctor of Philological Sciences Roman Teodorovych Hromiak was the first Head of the Department. In August, 1995 Hromiak R.T. initiated the formation of the Department of Literature Theory and Contrastive Literary Studies as a scientific community for teachers of literature theory, world and children's literature. On July 1, 2014 it was affiliated to the Department of Theory and Methodology of Ukrainian and World Literature; Mykola Platonovych Tkachuk became the Head of the Department.
The Department graduates students of the Faculty of Philology and Journalism. It prepares highly qualified teachers of Ukrainian and world literature on the basis of national and universal educational experience, forms professional and spiritual culture of future speakers, professional competences of new interpretations of the literary text, consideration of historical and literary phenomena in the context of world literacy development, differentiated approach of literature teaching as a word art. 
There is a room museum of Academician Volodymyr Hnatiuk, world famous folklorist, ethnographer, literary critic, translator and public and cultural figure, "our patron" who is a "spiritual sign under which we work here and go beyond the University" according to Hromiak R.T.
The Department provides high professional level, innovative teaching methods, creative approach, cultivation of national life basis and universal values. Due to creative energy and purposeful work of Professors Roman Teodorovych Hromiak and Mykola Platonovych Tkachuk a narratological school was formed in the Ukrainian literary science, which productively united the leading literary critics of Ternopil: Lesya Petrivna Vashkiv, Mariia Mykolaivna Danylevych, Iryna Vasylivna Dobrianska, Nataliia Zinoviivna Kuchma, Zoriana Bohdanivna and Mariana Bohdanivna Lanovyk, Vasyl Ivanovych Machno, Ihor Volodymyrovych Papusha, Halyna Fedorivna Stupinska, Volodymyr Yaroslavovych Stupinskyi, Liubov Ivanivna Tsaryk. Strong theoretical and methodological foundations, established by professors known in Ukraine and abroad, ensure the continuity of scientific traditions, form and shape the scientific horizons of young researchers (Lesia and Vladyslav Hyzha, Svitlana Zhurba, Vira Kachmar, Ivanna Lutsyshyn, Marta Rudenko, Tetiana Sruratko, Olexandr Tkachuk etc.). There is a postgraduate course in specialty 10.01.01 "Ukrainian Literature".
The Department staff does research work, in particular since 2018 it has been working on the collective theme "National Models of Ukrainian and Foreign Literature" (state registration number 0118U003136), regularly holds international scientific conferences on the problems of creative work of Volodymyr Hnatiuk, Bohdan Lepkyi, Borys Charchuk, Ulas Samchuk and others, compiles scientific collections based on the results of folklore and local practices. The Department publishes two scientific journals: "Scientific Notes of Ternopil Volodymyr Hnatiuk National Pedagogical University. Series: Literary Studies" (Editor-in-Chief: Professor Tkachuk M.P.), "Studia methodological" (Ternopil-Kielce) (Editors-in-Chief: Professor Labaschuk O.V. (Ukraine) and Professor Leschak O.V. (Poland).